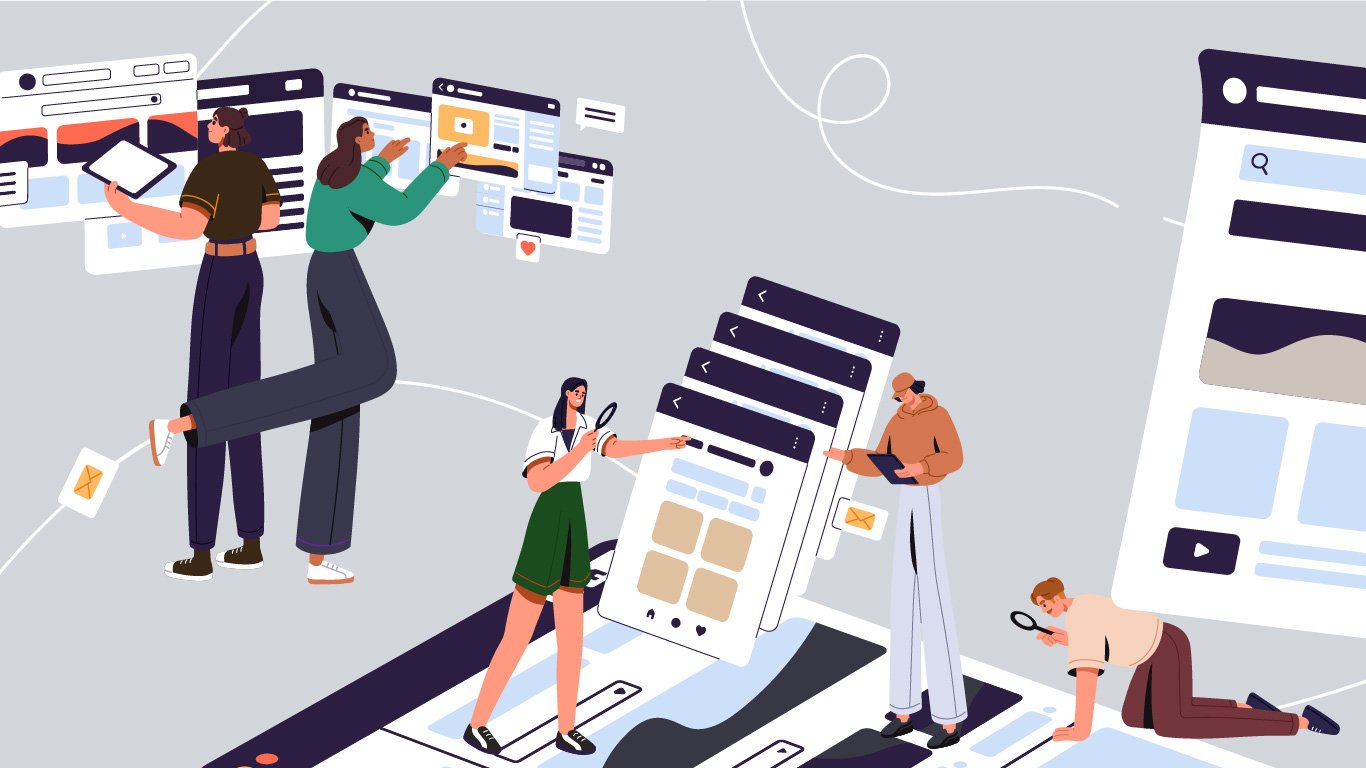 Elastic Search vs Live Search on Adobe Commerce
E-commerce market is growing rapidly over the past few years. User Experience (UX) becomes an essential factor for the success of every e-commerce store as customers nowadays expect a seamless experience.
The search facility on the e-commerce site is crucial in enabling users to find the products or categories they are seeking. According to Adobe, site search shoppers are 2-4 times more likely to convert. When shoppers feel friction, they are quick to abandon the site for an easier solution, resulting in lost revenue for the merchant.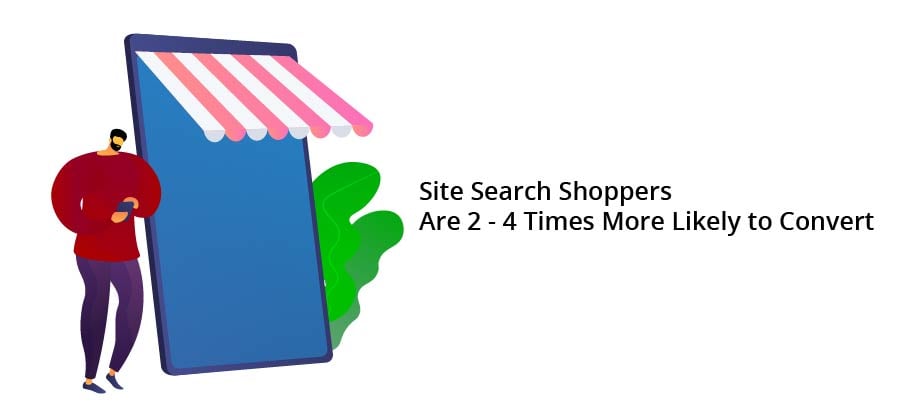 However, a study by Baymard Institute showed that merchants have a long way to go to create better site search experiences:
27% of sites won't show useful results if the shopper misspells just one character

Only 49% of sites allow shoppers to refine their search with faceted navigation

61% of sites have weak support for search synonyms to help shoppers navigate
If you have been using Magento as your E-commerce site platform, you might know that the search was not its core strength. Until recently, there are two main forms of inbuilt search that can be used within the Adobe Commerce platform. Elastic Search and Live Search.
Elastic Search
Elastic Search is an open source, widely used and easily scalable search engine. Instead of a typical full-text search, Elastic Search provides ways to extend search capabilities through the use of APIs and query DSLs.
It was the default product search in Adobe Commerce. Don't be surprised that it was also the only search option available until mid-2021. However, many customers chose to extend this search solution because it did not provide good predictive search capabilities.
There are still a few favourable functions such as advanced search, weighted search and configuring catalog search.
Advance search allows users to further refined their search with a configurable product attributes form. It may be more suitable for the B2B market than for the B2C market when the product attributes are complex. Admin can include only the fields that customers are most likely to use to find a product to avoid slowing down the process.
Good to mention that in most cases, the search configuration can be managed by an enterprise user in the admin area without a developer. They can also adjust the weighting and general configuration of attributes. In contrast, the major limitation of this search is that it only supports product content.
"Product attributes that are enabled for catalog search can be assigned a weight to give them a higher value in the search results. Attributes with a higher weight are displayed before those with a lower weight. For example, if there are two attributes in the system, color with a search weight of 3 and description with a search weight of 1, a search for the word red will return a list of products with the color attribute value red, but no products with descriptions containing the word red. In this example, the color attribute has a higher weighting than the description attribute."
Due to vulnerabilities in Elastic Search and the end of life of the current version, Adobe Commerce will replace Elastic Search with OpenSearch in version 2.4.4. Elastic Search will continue to be available on hosted platforms, but will no longer be supported by Adobe Commerce Cloud, which has moved to Live Search.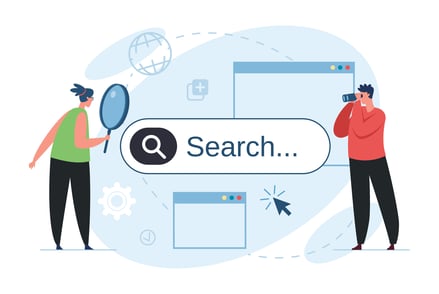 Live Search
In 2021, Adobe introduced Live Search to replace ElasticSearch. It is available as a free module within the Adobe Commerce Marketplace. This will be the primary search option for Commerce Cloud users from Adobe Commerce 2.4.4 onwards. ElasticSearch modules need to be turned off to install this new search engine.
It combines the power of Adobe Sensei AI with commerce data to deliver highly relevant search results with simplified back-end management. Merchants can create rich search experiences directly in Adobe Commerce admin to help shoppers quickly find what they're looking for, as well as what they didn't know they needed.
There are three main features that users need to work with, facets, symptoms and rules. We often see multiple attributes in a page's filters, mainly product listing pages. These attributes are known as facets. For eg, colour, category and fabric. Synonyms extend searches and allow customers to find the same product by entering different words. For example, a dress can be found through dress, formal attire and summer outfit.
What is more exciting is that you can actually customize how the search results appear based on the query through rules. Having control over what customers see provides an additional opportunity to market your items by highlighting or hiding certain products. It evolves from only a UX tool to a powerful marketing tool.
Differences
ElasticSearch uses REST API whereas Live Search uses GraphQL which is more advantageous in this case. Most applications nowadays host their data on a remote server. The API merely has to provide an interface for data storage of those that matched the application requirements. It provides consistent and high-quality UX across all operating systems.
Live Search has a good win in terms of speed in which it can provide fast and intelligent search results. Search-as-you-type results give shoppers results on each keystroke. There are multiple filters that shoppers can use to narrow their search quickly. Besides, shoppers can browse the products by categories such as price, brand or ranking instead of by just keywords.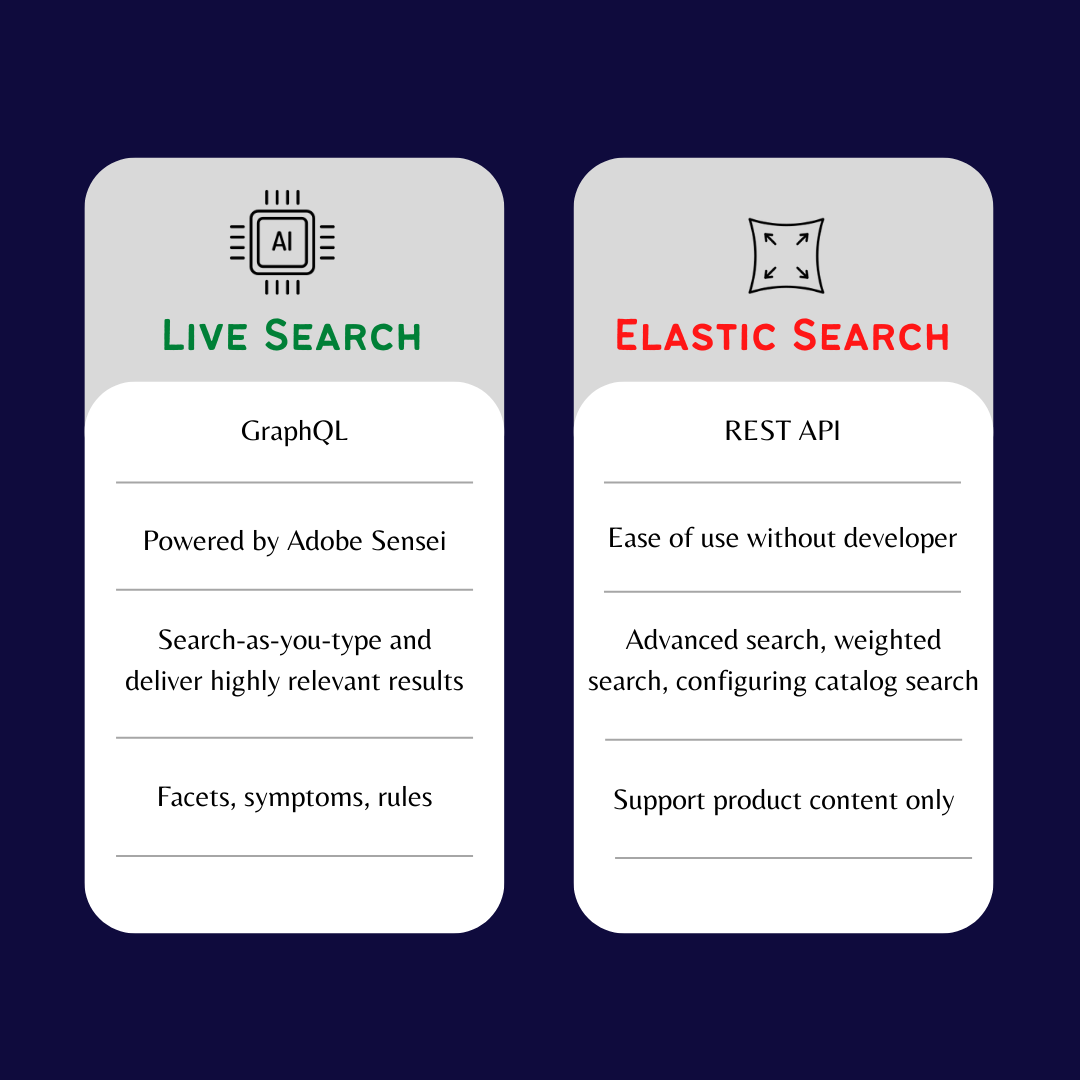 In short, Adobe Commerce Live Search utilizing Adobe Sensei is a practical and powerful search engine that you should consider. The best part is that it is free if you are Adobe Commerce Cloud user. Searching plays a major part in increasing your conversion rate. Talk to us today to facilitate your search engine now.